When ordering please state what font you would like used. Times New Roman, or Monotype Corsiva,

Set 1 has Engraved Glass ith invitation, 1 floating tealight candleholder...$44.99.00 plus S&H

Set 2 Names and date --Cost is $33.99 plus S&H

These glasses are non refundable

You can email us your invitation or send it in the mail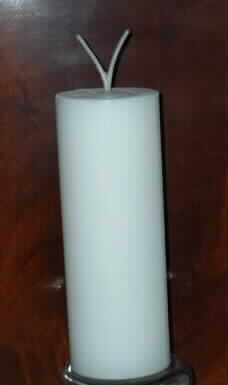 Unity Candle
......$15.00 single wick plus S&H
candle with unity wick.... $20.00plus S&H SALE PRICE $10.00 + shipping when purchased with glass or Simple Elegance
Candle for inside of glass custom made to the right height for glass about 8" tall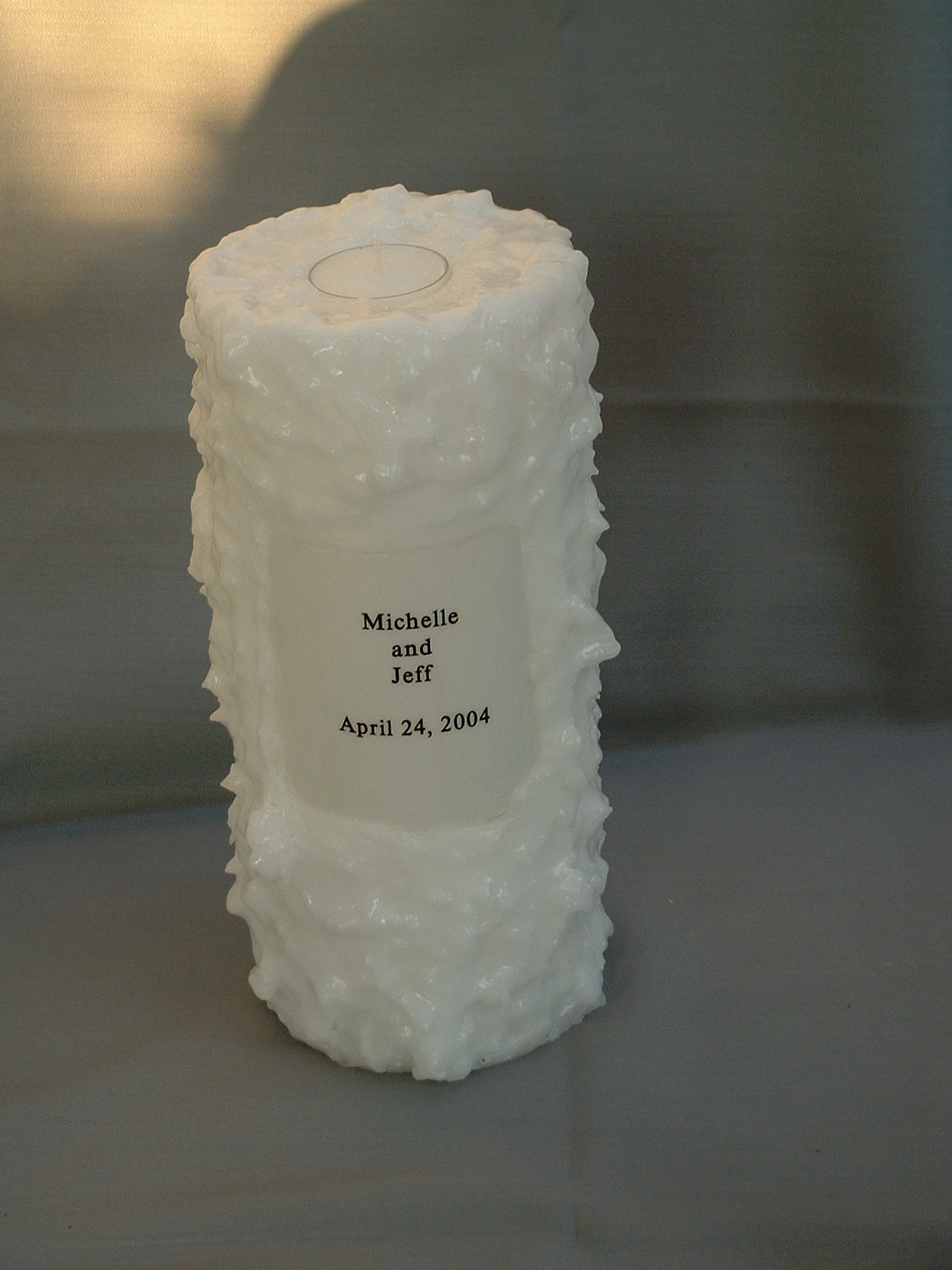 <4" x 10" Candle with unity wick....$26.99plus S&H
with names and date as pictured $36.99 plus S&H










Simple Elegance
We have been making this candle for over 35 years. I still have mine from 1974 so you can see this is a keepsake. It is a hollow candle with your invitation on it. The invitation becomes a part of the candle
It comes in two sizes
6" tall and 6" wide.....$36.99 plus $15.00 S&H
9" tall and 6" wide.....$39.99 plus $15.00 S&H
12 " tall and 6" wide.........$49.99 plus $19.00 S & H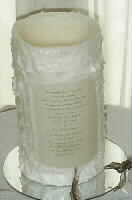 "Simple Elegance Candle"
This has a candle inside and glows to show your invitation.




You can also mail your invitation to:
1844 Gordon RD NW
Dover, OH 44622
Turn around time is about 2 weeks plus shipping
Please include check or best way to contact you to get your credit card information

Email us your wordingapps@roadrunner.com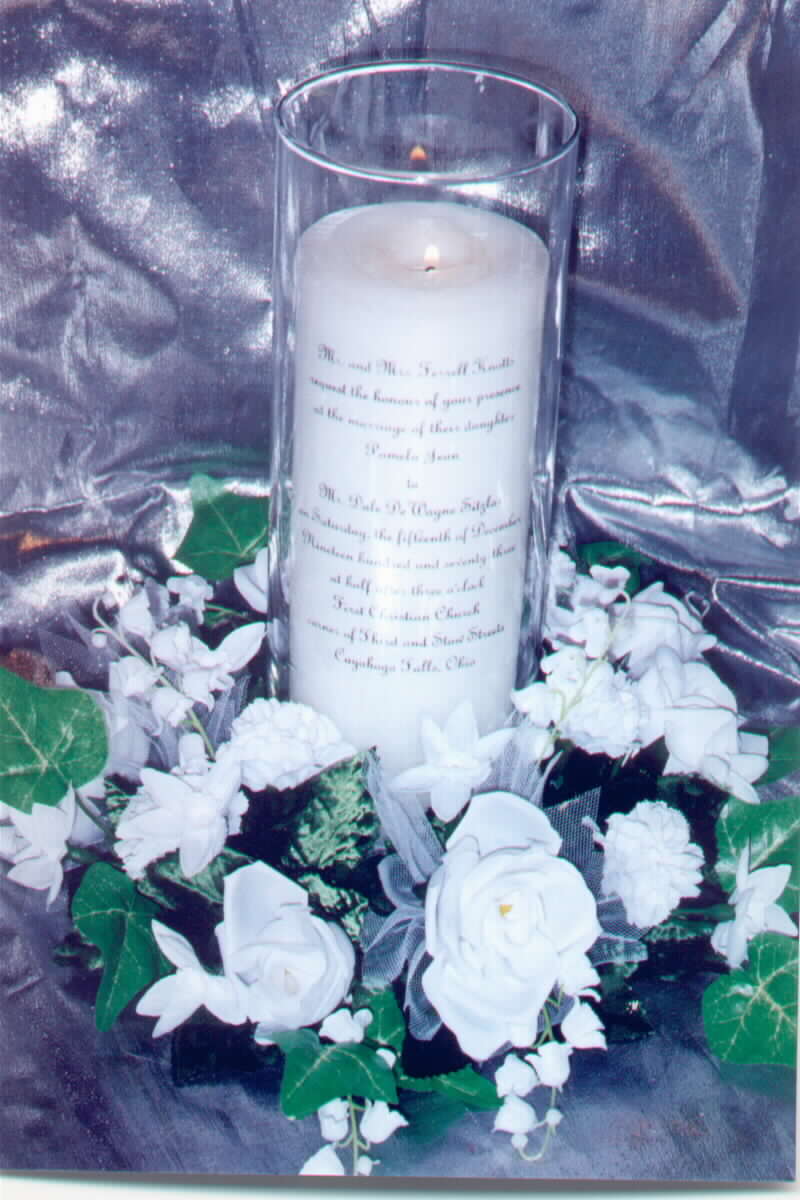 "The Forever Unity Candle"
Light a unity wick at your wedding and then burn a single wick on your anniversary each year.
Glass filled candle with decal of your invitation or choice of wording
Only $19.95 plus S&H.
Unity wick $5.00 extra


This is made with a clear decal that only the words show. This decal will not come off the glass and the ink is covered with a clear protective covering.



Unity candle with single wick and side candles with holders ..............................$24.95
Unity candle with unity wick and side candles with holders ..............................$29.95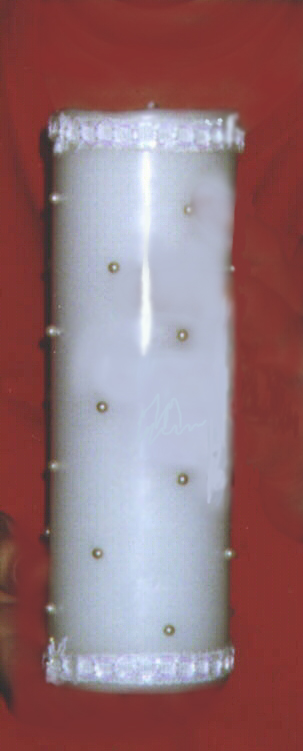 Pearls and Lace This is 3" x 9" candle has lace ribbon around the top and bottom with rows of pears around the candle. Has a replicable tea light candle (available with single wick or unity wick). .
single wick .... $19.00
unity wick .... $22.00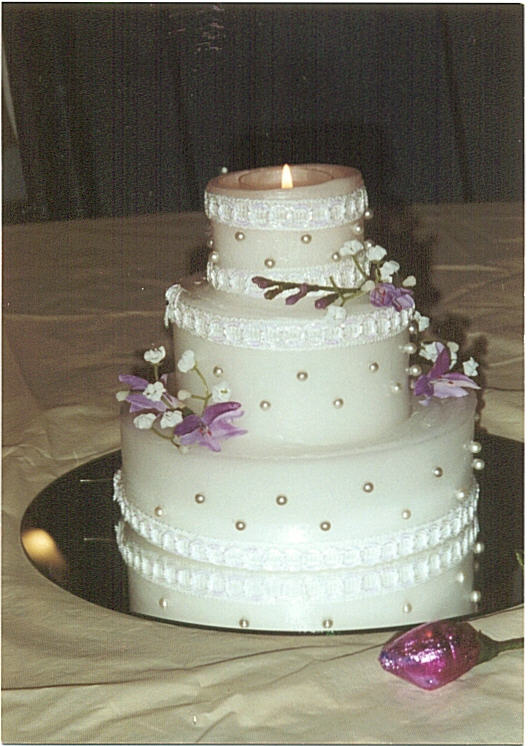 Wedding cake candle
This is three candles layered so they are one candle. Each layer of the cake candle is decorated with pearls. It comes with a replaceable tea light candle. Makes really cute centerpiece
6" tall and 6" wide .... $30.00 SALE PRICE $19.99







Wedding Favors
What is a wedding favor? According to "Favors Tell Guest about You and Them" by Natalie Shollenberger, your guest are giving you an entire day from their schedules and their lives to help you celebrate one of the most important days in your lives. They spend time and money on a wonderful wedding gift, and no doubt, enjoy themselves at your reception with all the elegant and tasty treats you have generously provided. So don't skimp on the favors, the one item they will take along with them. Many brides and grooms prefer "keepsake" items:.... Favors tell your guest much about you, so show them how much you value their presence at your wedding." For more Wedding Favors click here


Customized wedding tapers

This is a 6" taper with your names and date (7/8" x 2") right on the candle.click for close up
only $12.00 per dozen.

You can sample this with your names and date for $5.00. Free shipping. You will receive credit for your sample candle, if you place an order from us.

Square candleThis wedding favor or table decoration is our square candle (2 5/8" wide and 3 1/8" high) with your names and date on it..click for close up ........$8.00 each (one side only) add $1.50 for each additional side. If ordered in multiples of 36 the price is $5.00 each.





Our Foam & Smooth Candles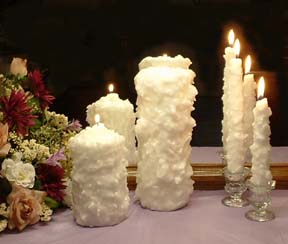 3" x 6" Foam Candle....$12.00 plus S&H

3" x 9" Foam Candle....$16.00 plus S&H

3" x 9" with Unity Wick....$21.00plus S&H

4" x 10" Foam Candle....$24.00 plus S&H

4" x 10" Foam Candle with unity wick....$29.00plus S&H
8" Foam Taper....$2.00 each plus S&H

10" Faom Taper..plus S&H..$2.50

12" Foam Taper....$3.00 plus S&H





Decals & Stencils / Square Candles / Anniversary Candles/

Birthday Candles / Unity Candles/

How to Order / Home/

P & J's Unique Gifts
Always Personal & Professional Service
email us at apps@roadrunner.com