When ordering please state what font you would like used. Times New Roman, or Monotype Corsiva,

or if other font please send us the font name and we will see if we have it.


These glasses are non refundable


You can email us your wording at apps@roadrunner.comor send it in the mail




A 3" x 9" candle can be purchased to fit inside with our unity wick(sold separately below)
We also have side candle tapers in glass holders with the bride and groom's names can be on the candles (not the holders)
.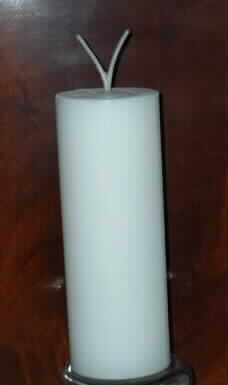 Unity Candle
......$15.00 single wick plus S&H
candle with unity wick.... $20.00plus S&H SALE PRICE $10.00 + shipping when purchased with glass or Simple Elegance
Candle for inside of glass custom made to the right height for glass about 9" tall
Customized wedding tapers

This is a 6" taper with your names and date (7/8" x 2") right on the candle.
only $12.00 per dozen.

You can sample this with your names and date for $5.00.







Also available in 8" taper with Bride;s name on one and the Groom's on the other for $5.50 PR.




Today's Word
"So I say to you: Ask and it will be given to you; seek and you will find; knock and the door will be opened to you" (Luke 11:9, NIV)




We now accept visa, mastercard, discover card, american express and paypal.
Shipping is estimated on checking out, we will refund the difference if you pay more than the actual shipping.
We are changing our shopping cart, if you have a problem please email us and let us know. Thank you.

P & J's Unique Gifts